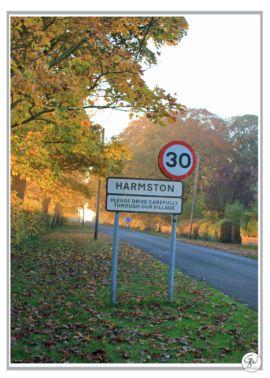 Harmston is a village and civil parish in the North Kesteven district of Lincolnshire, England. It is situated just west off the A607, and 5 miles (8 km) south from the city and county town of Lincoln. It sits on the Lincoln Cliff overlooking the River Witham valley.
The village of Harmston is a documented settlement in the Domesday Book of 1086 and according to local historians originated as a 'toft village', a settlement composed of small relatively closely packed farms (tofts) with the surrounding land owned and farmed by those dwelling in the village buildings. It is possible to see the site of one of these tofts in the village towards the western end of Chapel Lane.
Harmston Hall is a large stone mansion at the northern perimeter of the village. This impressive building, is a manor house erected in 1710 for Sir Charles Thorold and also the one-time home of Sir George Thorold who was Lord Mayor of London in 1719. The manor belonged to the Thorold family from at least 1456.
In 1871, the manor house was unoccupied and by 1881, the manor house was the residence of Mr. Thomas BASTIN. In 1930, as a result of the Local Government Act, Harmston Hall became part of a new mental health hospital complex, and functioned as the headquarters for the organisation 'Lincolnshire Joint Board for Mental Defectives'. The hospital site finally closed down in 1990 and was soon redeveloped to become a private home once again.
Harmston remained a very small village until the mid-1990s when the new owner of Harmston Hall (a local property developer) made plans for a new housing development on the former hospital site at the southern perimeter of the village. The new housing estate was completed in 2006 and has brought many new people into the community.
The old railway station, a half mile west of the village, was on the Lincoln to Grantham Branch of the Great Northern Railway.
Combined with information from Wikipedia.