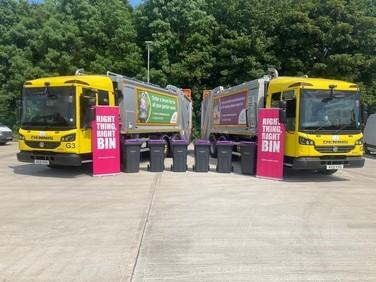 Details on how recycling has changed in Harmston
It's time to start separating your recycling
The coming week's waste collections in North Kesteven mark the start of a new approach to recycling which seeks to get the best out of everyone's recycling efforts.
The Council is calling on all residents to follow their 'Right Thing, Right Bin' message.
With all homes in the District now having received their new purple-lidded bins, it's time to start separating clean and dry paper and card into your new bins ready for their first collection in the week starting 27 September.
Paper and card that's been shredded or become dirty and greasy, such as pizza boxes or takeaway food containers, should go into the black bin as they can't be recycled. This waste goes to the Energy from Waste plant at North Hykeham where it's turned into clean electricity and fed back to the grid.
The green-lidded bins - collected week commencing 13 September – should only contain the remaining recyclable items such as plastic tubs and bottles, glass, tins and cans.
Residents will be supported through the changeover with helpful tags being attached to bins highlighting the need to put the 'Right Thing' in the 'Right Bin'. As we collect your bins, we'll be taking a look to check that the right recycling is in the right bin and adding a tag where needed.
NKDC Leader, Councillor Richard Wright explained: "We appreciate it's a big change to the system we've all got used to over the years, so these tags are designed to help people identify what needs to go in which bin going forward. The simple message is that paper and card now goes in your new purple-lidded bin.
"The new bins are going to help Lincolnshire become even greener. By all doing our bit to put the Right Thing in the Right Bin, we can improve the quality of paper and card recycling, and increase how many times it can be recycled.
"North Kesteven's residents have always been brilliant at recycling, and we know many share our ambition to tackle climate change. This new approach to recycling is a positive step towards reducing the demand on natural resources."
Every household has been sent a 'Right Thing, Right Bin' leaflet that shows what can be recycled as well as what can't. For example, soft plastics (like carrier bags and food wrap) can't be recycled via the Council but can be taken to supermarket collection points
"We know how much you value your waste crews, especially through the pandemic when they've worked tirelessly to keep services running. So, while we know change can be inconvenient, we hope they can count on your moral support as they get on with their jobs."
Residents are reminded to check what can and cannot be recycled at n-kesteven.gov.uk/AZrecycling.
If anyone hasn't received their purple-lidded bin, or has any questions, there is information and FAQs on n-kesteven.gov.uk/recycling or they can email recycling@n-kesteven.gov.uk.